What is Teddy Lingerie?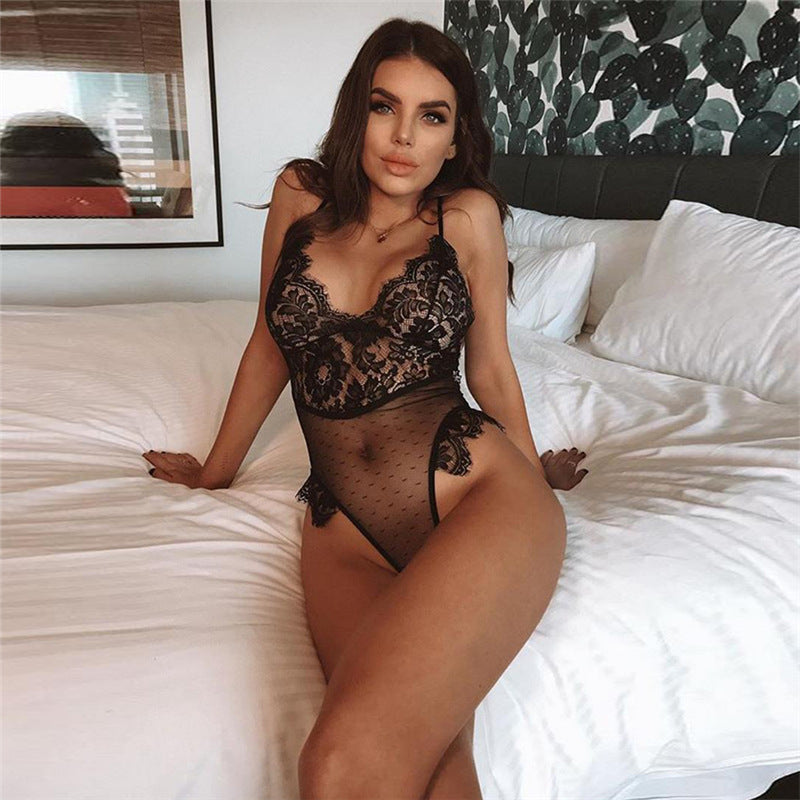 A teddy is a one-piece type of lingerie that usually hugs the body of the wearer. The one-piece silhouette (what the teddy is known for) became popular during World War II when women who performed military-related duties and jobs began wearing pants instead of skirts (women primarily wore skirts to work before this). 
The one-piece silhouette style reappeared in the early 1960's. What most people know and recognize the teddy nowadays is known as the modern-teddy which began to become popular during the late 1980's and early 1990's - when neon and spandex were in-style.
Teddy Lingerie in 2021
Today, the vast majority of teddy lingerie is sleeveless and is commonly decorated with a combination of lace and satin materials - making the body of the wearer to accent their silhouette.
What fabric is teddy lingerie typically made of?
Teddies are commonly made of satin as satin is a great fabric for allowing a woman's silhouette to be shown off. Teddies can also be made from lace, fishnet, vinyl, latex or even sheer mesh - of every cut and style. Teddies can be made of nearly any fabric that a potential buyer might want.
How can teddies be worn?
Teddies can often be worn underneath a full outfit, usually making it a go-to choice for many wearers as they're comfortable enough to be worn all day and to come home a be a surprise for the wearer's spouse! 
A teddy is also a great piece to wear around your house as loungewear just because they're so comfortable and easy to slip on and off!
What body type is best for a teddy?
Teddies can be a sexy choice for any body type, but the best body type is anyone rocking an apple shape, rectangle shape or anyone with an inverted triangular figure.
Apple Body Type
If you have an apple shape body figure (rounded midsection and shoulders wider than your hips) a teddy will help slim your midsection while helping accentuate your breasts - offering a more proportionate overall figure.
Rectangle Body Type
If you have a rectangle body shape (athletic figure with no defined curves) a teddy will help pull in your waist and offer the illusion of a curvaceous physique. A teddy that has built-in cups can really help lift and accentuate your breasts, too!
Inverted Triangle Body Type
If you have an inverted triangle body shape (broad shoulders and slim hips) a teddy with halter straps will draw the eye of that special someone down from your shoulders and on to your hips - helping to elongate your figure.
What color teddy should I buy?
Picking the right color teddy is imperative to make you feel good! Most women choose their lingerie colors based on the season and their personality. 
Black Teddy
This is the perfect color for anyone looking to purchase their first teddy. Black is a good safe color and is the most commonly sold color of teddy. Black is a classic sexy lingerie shade and typically looks great on every body type.
Red Teddy
Red lingerie is the most common color choice for Valentine's lingerie purchases. Red lingerie is the most passionate and romantic color. Both black and red lingerie are the most common lingerie color choices.
Nude Teddy
For a softer and more beautiful look, muted tones are the best lingerie color choices. A muted tone such as white or nude can greatly increase the sensuality.
White Teddy
White teddies are common choices for women wanting a wedding-night lingerie option. White lingerie will go well with your wedding and reception gowns!
Blue/ Purple Teddy
Blue and purple colors can bring out the element of fun and mystery. These color choices are best for women seeking something more mysterious and something to better contrast their skin tone.
---