Lingerie as Outerwear: How to Be Bold and Beautiful in Your Underwear!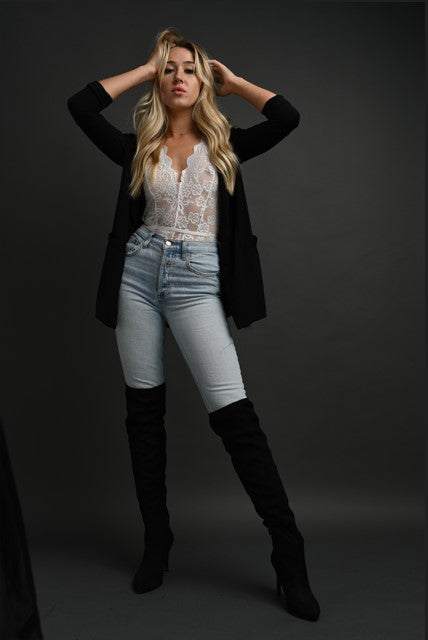 Lingerie as Outerwear: Making a Statement with Confidence
Are you tired of keeping your favorite lingerie pieces hidden under your clothes? Ready to break free and showcase your style on a night out? It's time to embrace the trend of lingerie as outerwear! That's right – lingerie is no longer confined to the bedroom. With the right styling, you can confidently wear your favorite bralettes, bodysuits, and slips as chic and daring outerwear pieces. Here are some tips to help you pull off the lingerie as outerwear look with style and confidence:
Layer it up: Effortlessly Blend Lingerie with Clothing 
One of the easiest ways to incorporate lingerie into your outerwear look is through layering. Mix and match your lingerie pieces with other clothing items to create a fashionable ensemble. Pair a lacy bralette with a sheer blouse for a touch of allure or wear a slip dress over a denim jacket for a flirty and feminine vibe. By layering strategically, you can show off your favorite lingerie pieces while maintaining a sense of modesty and comfort.
Embrace the Unexpected: Mix and Match Styles 
Don't be afraid to step out of your comfort zone and experiment with unexpected combinations. Explore the contrast between delicate lingerie and edgier outerwear to create eye-catching looks. Pair a satin corset with ripped jeans for a bold and daring ensemble or combine a lace bodysuit with a leather jacket for a fusion of femininity and toughness. Let your imagination run wild and embrace the unexpected to make a unique fashion statement.
Accessorize for the Perfect Finish 
Accessories play a vital role in completing any outfit, and lingerie as outerwear is no exception. Add the finishing touches to your ensemble with carefully selected accessories. Consider pairing your lingerie with a statement necklace, bold earrings, or a colorful scarf to elevate your look. These accessories will accentuate your style and add a personal touch to your lingerie as outerwear ensemble.
Confidence is Key: Embrace Your Inner Goddess 
Above all else, confidence is the key to pulling off lingerie as outerwear. Embrace your inner goddess and wear what makes you feel beautiful and sexy. Let your confidence shine through, as it is the ultimate accessory that can elevate any outfit. Remember, there is power in owning your unique style and expressing yourself fearlessly. So step out with confidence and show off your lingerie as outerwear with pride.
So go ahead and unleash your inner fashionista by trying out the lingerie as outerwear trend. Embrace your personal style, experiment with different combinations, and most importantly, wear it with confidence. Life is too short to hide your beautiful lingerie collection in a drawer – let it take center stage and make a statement wherever you go!
---